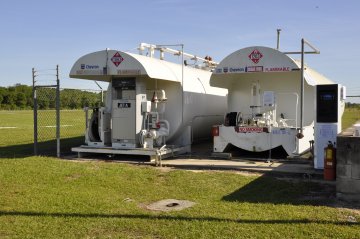 Fuel Services at Tri-County
The Tri-County Airport provides self-service 100 LL and Jet A fuel to transit aircraft and tenants via our fuel farm or tanker trucks. We actively compare our fuel prices to other airports in the area, and strive to be competitive in price.
Our self-serve tanks are located immediately to the east of our terminal building (close to the windsock and helipad) and we accept major credit cards.
The self-serve farm is well lit at night and a fire extinguisher is located next to the credit card processor.
Fuel delivery is also available (by calling in advance) from small tanker trucks and is available Monday through Friday during normal business hours. (After hours upon prior request.) We suggest you call us in advance at (850) 703-6808 to discuss your particular needs.
While we will assist you fueling your aircraft and can charge your credit card remotely from the tanker truck (at the same cost as self-service), for liability insurance reasons we do not provide "full-service" fuel delivery. Pilots and aircraft owners must fuel their own aircraft, but we'll be glad to help.
Our staff has been fully trained in fuel standards to include safety, regulatory compliance and quality of delivered product and is here to assist you.
We provide a generous discount to our already competitive fuel prices for our hanger, shade hanger and monthly tie-down tenants. Give your credit card information to our Manager.
Tri-County Airport
PO Box 756, Bonifay, FL 32425
1983 Tri-County Airport Road, Bonifay, FL 32425

(850) 703-6808